There's so many things that define 2018 for me, but at the end of the year, it's hard to help but look back at the positives, the best of the best in regard to anime. Here's my two cents on my favorite anime of the year, my top anime of 2018.
---
Rules
My rules of this list are simple: if it aired/released this year, it can go on this list. I don't see the point in only giving a show one chance during it's airing season, and this is my list so I'll list my favorite shows regardless of what season it started on. If this means that one show hogs the top spot for 2 seasons, than good for that show! If it's an OVA or movie that came out during the duration of the season I fell in love with, then it may be there. I think that the seasonal split is arbitrary and unnecessary, so it's completely gone here. Sorry about that, but that's how I'm doing it.
Just an FYI, the placement of the show in the list is mostly based on my experience and enjoyment of the work, so if you're wondering why something isn't where you think it should be or you can't really tell via the justification, that's probably why. Keep in mind, just because a show is lower on the list doesn't mean it's bad - all of these are great, and a lower placement isn't a mark against the show, at this point it's nearly all personal preference. With that out of the way, let's get started!
---
Thoughts on Anime in 2018: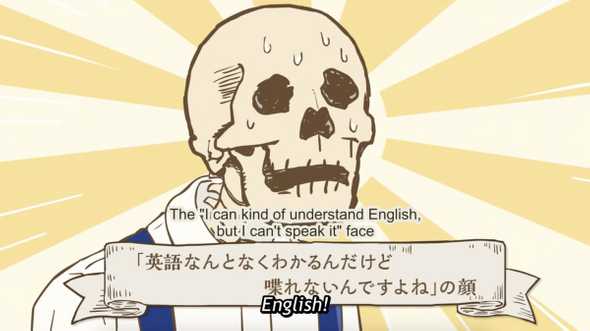 A part of this is my own circumstance, but a part of it was anime itself: while there were some really great anime this year, and I absolutely adore a lot of the shows on this list, outside of this there was only a handful of shows that actually kept my interest. Even if I had time to make the seasonal lists, I'm not quite sure if I would have been able to find enough shows to fill out the 5 I usually have per season.
That being said, like 2017, there were some damn great movies that came out in 2018, and I loved seeing them. Liz and the Blue Bird, Maquia, Night is Short, Walk on Girl, I enjoyed all of the anime movies I went to see this year and some of them were just stunning. Shame I wasn't able to see Mirai, but I had a great anime movie year.
One thing about 2018 I did appreciate a lot however, is that because of the anime that came out this year, I feel like I finally know what I enjoy in a work - it's all about the characters. Before I thought I enjoyed works that focused on the story first and foremost, disregarding other elements to create a more engaging work, but ultimately I've learned that I can enjoy a show regardless of it's premise, so long as the interactions between the characters are entertaining and engaging. While I do enjoy a good sci-fi or action show, well written, realistic and complex characters are what I love for in a work, and I think this list definitely shows that, at least up in the top.
---
Honorable Mention: Steins;Gate 0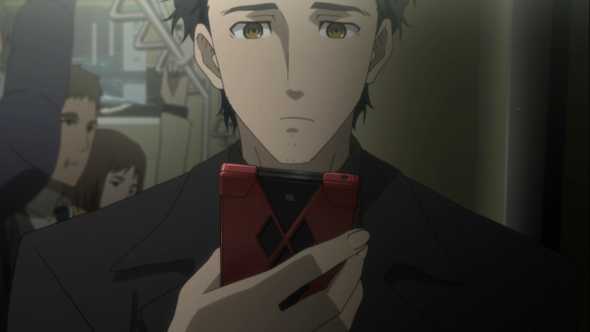 Anime Made By: White Fox
Genres: Sci-Fi, Slice of Life, Drama, Thriller
Plot Summary: The eccentric, self-proclaimed mad scientist Rintarou Okabe has become a shell of his former self. Depressed and traumatized after failing to rescue his friend Makise Kurisu, he has decided to forsake his mad scientist alter ego and live as an ordinary college student. Surrounded by friends who know little of his time travel experiences, Okabe spends his days trying to forget the horrors of his adventures alone.

While working as a receptionist at a college technology forum, Okabe meets the short, spunky Maho Hiyajo, who later turns out to be the interpreter at the forum's presentation, conducted by Professor Alexis Leskinen. In front of a stunned crowd, Alexis and Maho unveil Amadeus—a revolutionary AI capable of storing a person's memories and creating a perfect simulation of that person complete with their personality and quirks. Meeting with Maho and Alexis after the presentation, Okabe learns that the two were Kurisu's colleagues in university, and that they have simulated her in Amadeus. Hired by Alexis to research the simulation's behavior, Okabe is given the chance to interact with the shadow of a long-lost dear friend. Dangerously tangled in the past, Okabe must face the harsh reality and carefully maneuver around the disastrous consequences that come with disturbing the natural flow of time. - Plot Summary from MAL

Justification and Thoughts: Huh. If you told me before the show aired that Steins;Gate 0 wouldn't make my top 10 list, I probably wouldn't have believed you. I loved the Visual Novel of Steins;Gate 0, and the anime definitely had it's moments, some even better than the VN, ... but the show rubbed me the wrong way. A part of this might be that Steins;Gate 0 isn't as good as I thought it was or it might have been a poor adaptation or it might have been fatigue since I played and reviewed the Visual Novel recently, but I just didn't really enjoy it as much as when I played the Visual Novel or as much as I thought it would.
This anime is still Steins;Gate so the strengths like the enjoyable cast, the engaging science and fun slice of life still applies and honestly it's a better adaptation than I should have expected. I think most would say that it's an objectively good anime, and you can see that from it's MAL score. It's just that this is my list based on my enjoyment of the show and there were just moments that were either rushed or incredibly dull during the anime to the point where I wasn't a big fan. The second half in my opinion is a bit all over the place, too focused to cram new stuff or non-relevant aspects of the show instead of focusing on what makes for enjoyable. Also to me, the strengths of Steins;Gate 0 is how it manages to convey Okabe's downtrodden feeling after the events unfolded, but the anime doesn't really do that element of the work justice. It's a shame, but what are you gonna do. :c
---
10. A Place Further than the Universe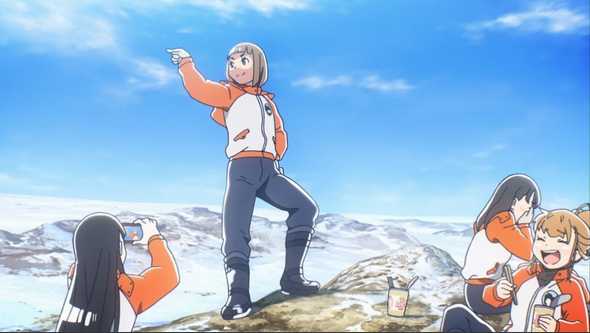 Anime Made By: Madhouse

Genres: Adventure, "Cute Girls Doing Cute Things"
Plot Summary: Mari Tamaki is second year high school student, who never did anything memorable in her life. Her fear of failure prevented her to do anything out of ordinary. When she decides to change it and do something she won't forget, Mari meets Shirase, a girl who's considered a weirdo by the rest of her class. Her nickname is "Arctic" since it's all she ever talks about. Mari listens to Shirase's story and is moved by it to the point, where she decides to join her in her pursuit of going to Antarctica, despite it's nearly impossible for high school girls to achieve it. - Plot Summary from The 11 Anime of Winter 2018 You Should Be Watching article
Justification and Thoughts: A Place Further than the Universe is an absolutely phenomenal show. The journey we watch as our colorful and cute cast grows throughout their adventure is gripping, entertaining, emotional. APFttU is a touching story about friendship, defying odds and finding closure in your life, a truly moving story that's executed exceedingly well. It's a story that I enjoyed... but it didn't really resonate with me, like so many others in this list.
A Place Further than the Universe isn't what I was expecting it to be, more a slice of life drama/cute girls doing cute things show than a true adventure show, an enjoyable watch throughout thanks to it's quirky cast and entertaining character interactions. With so much charm , i t's easy to understand why it's chart topping so many other people's lists, and it stands a s one of my favorites of the year.

---
2. Rascal Does Not Dream of Bunny Girl Senpai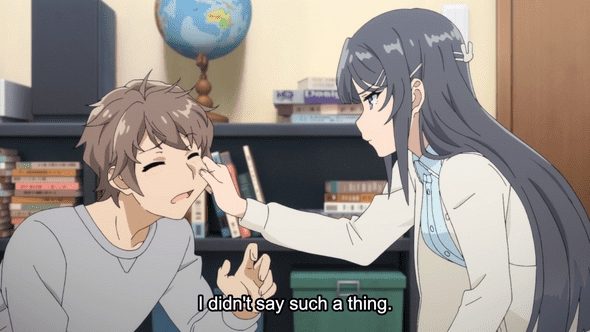 Anime Made By: CloverWorks

Genres: Supernatural, Drama, Romance, Comedy
Plot Summary: Sakuta Azusagawa is a second year high school student living in a world where Adolescent Syndrome is a mysterious affliction that affects certain young adults in different ways, hence the name. Sakuta has had his own issues with Adolescent Syndrome, but while spending time in the library, he sees a beautiful girl walking around dressed as a bunny girl. This is Mai Sakurajima, who it turns out is essentially becoming invisible to more and more people. Sakuta sets out to help Mai in her predicament and will come to help out many others with their issues. - Plot Summary from The 9 Anime of Fall 2018 You Should Be Watching  article
Justification and Thoughts: I'm a sucker for romances/dramas with a great cast, and Bunny Girl's cast had me in love. The music was great and the presentation was solid, but while the name might make you assume this show is trash, the best part of Bunny Girl is the characters, and oh boy, this cast was great. So many of these shows have extremely shallow characters, basically walking archetypes, but with Bunny girl we got multidimensional characters, a cast that had depth and acted like actual humans instead of tsunderes or something like that. Bunny Senpai is like the perfect blend of Monogatari and SNAFU, structured like the best parts of Monogatari and focused in supernatural phenomenon but having the character depth that made SNAFU so great.
The relationship between Sakuta and Mai was something special. Both characters on their own were phenominal, but seeing them interact, talk problems out and have a healthy relationship with banter that was just phenomenal, really what i'd love to see in every show. It takes a show like bunny girl to get you to appreciate how important idle banter between characters is in regards to one's enjoyment of a show given how it fills your moment to moment experience, and after watching the show, I definitely won't take it for granted.
Each arc of Bunny Girl was great and I thoroughly enjoyed the show throughout, but the standout was at the end with Kaede's arc. I don't think i've changed my opinion on a character so fast, but the way they executed that arc was phenomenal and I can't wait for more. Onto the movie!!! Absolutely loved Bunny Girl, and it stands as one of my favorite anime i've seen, ever. Probably in my top 25 of all time.
---
1. Yuru Camp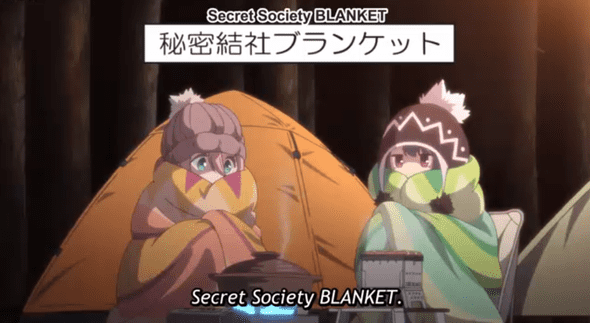 Anime Made By: C-Station

Genres: Slice of Life, Comedy, "Cute Girls Doing Cute Things"
Plot Summary: Rin is a young high school girl and solo camping enthusiast. While winter camping at a spot with spectacular views of Mt. Fuji, she runs into new transfer student Nadeshiko, who knows nothing about camping but IS an adorable goofball. Nadeshiko then catches the bug and joins the schools Outdoor activities Club. From there we get the charming camping and camping related adventures of Rin, Nadeshiko, and the Outclub. - Plot Summary from The 11 Anime of Winter 2018 You Should Be Watching article
Justification and Thoughts: Secret Society BLANKET spreads it's influence further. To me, the best slice of life shows do more than just comedy and day to day life- they have an almost uncanny, amazing ability to capture a raw feeling and present that feeling in a manner that provides pure bliss to the viewer. In this regard, Yuru Camp is an almost quintessential example of a great SoL. Sure, I could rattle off Yuru Camp's great points like how I really enjoyed the well rounded cast, the jokes were really funny, I loved the presentation, the opening is catchy as all hell, etc but this wouldn't even come close to why Yuru Camp is such a great show.
Yuru Camp captures the excitement that goes into camping perfectly - the wonder of the nice views that you see along the way, the anticipation from the escape from normality, the fun times of looking at the stuff you'll need to buy for the trip, and then actually getting to your destination and having a great time. Even if you're not a fan of camping, it's gonna convey this feeling to you, reminding of what it's like to go traveling with your goofball friends as they do silly things, having a great time. The feeling of adventure, the feeling of seeing cool and unknown places with all the quirks that comes with that, and the feeling of just having a great time by yourself or with friends: every moment Yuru Camp is pure bliss, enjoyable and relaxing to make your day all that much better. Add to this Nadeshiko being my spirit animal that put a smile on my face throughout, and I have to say... I love Yuru Camp and it's my AOTY of 2018, and one of my favorite anime I've ever seen.
---
Thank you for reading! If you want to check out more of my writing, check out my blog RockmanDash Reviews, as well as FuwaReviews and AniTAY where I am a contributor. Also follow me on Twitter if interested!