I love Key works as much as the next person, but unfortunately for me, that love can easily lead to fear. Hearing about the fan favorite Visual Novel Rewrite getting an adaptation is just one example of why: instead of cheering, I was praying. Adapting any work into a new medium can be hard, but Rewrite is no ordinary work... it's a Key Visual Novel. Thanks to a convoluted story structure and 8-Bit's terrible adaptation skills, my fears were realized as the Rewrite anime became a checklist of everything that can go wrong, a work that fails to appeal to fans and newcomers alike.
*This is a review of the 2016 Anime adapted by 8-Bit. If you're interested in a review of the Visual Novel, check out my review here*
---

The Root of Rewrite
Regardless of the quality of the adaptation, there are aspects to a story that are nearly impossible to ruin (unless they completely change the work in a way that it becomes unrecognizable from the original). Those aspects would be the core of the work, the premise, and the assets that originate from the source (like character design). Luckily, in this adaptation these aspects are maintained for the most part, and because of these aspects, the show isn't the worst thing ever to watch and individual episodes can be interesting to watch, but taken as a whole Rewrite is not great. FYI, the story of Rewrite follows our protagonist Kotarou, who lives an average life in the environmental conscious Kazamatsuri, a city that is a forerunner in ecological studies. He lives a normal life for the most part, until Kotarou decides to make the occult research society go into the forest looking for unidentified mysterious animals. Instead of UMAs however, Kotarou finds himself in the middle of a conspiratorial conflict and with a weird power. Unknown to most, there is an underground war between 2 factions fighting for a way to save the earth: the Superhumans known as Guardian, and the Summoners known as Gaia. These factions are rather interesting, with very different goals and ideals, which makes watching this conflict unravel intriguing. Unfortunately, the story was way too ambitious, something that carries over from the source material. If the source was too ambitious… just imagine how a bad adaptation would handle that….

Rewritten into Randomness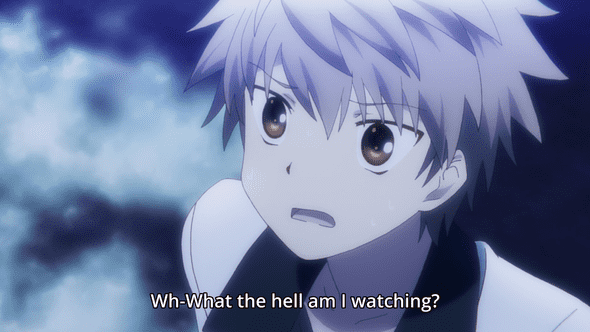 …. And you get an adaptation that is a failure, a pain to watch. Visual Novels are a fundamentally different medium than Anime, and even if you have aspects hat work well in a Visual Novel, they don't necessarily work well in anime. Just to give you some idea about how they differ: In Visual novels, sometimes you have to repeat aspects of the work over and over again while anime is linear, visual novels aren't serialized while anime is, the pace is much slower in VNs in comparison to anime, VNs are a lot more information dense, they're less sensitive to time, etc... even the story structure can even screw things up. In even the best of times, Visual Novel adaptations can be rough, making hard decisions that drastically change the story experience like Clannad, but in the worst of times they can be incoherent, nonsensical, and impossible to enjoy.

Rewrite is that kind of adaptation, one that has to make drastic changes to make the adaptation work, but does it in a way that is near impossible to enjoy. Not just for a VN fan like me, but for anyone, newcomers alike (Just take this reddit post comparing Rewrite to Bananya of all things). It was limited by time (it went through the core of the story in 13 episodes, the Visual Novel is one of the longest in the market), one that selected parts and arranged them in a way that was impossible to make any sense out of, and it was just plain boring.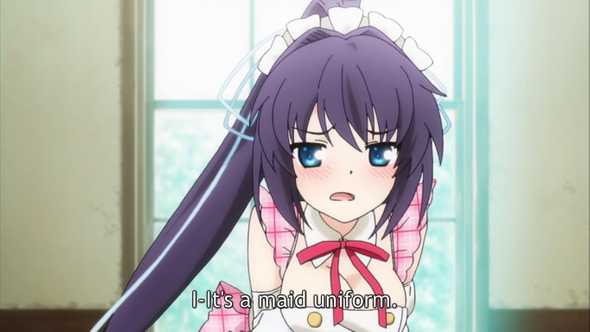 The primary reason? Poor handling of the Common Route, or the existence of the Common Route by itself. Visual Novels have this thing called a common route, an intersection that all routes branch off of, and it's almost all slice of life, getting to know the cast before you go into their personal story. This anime was doing common route for more than half of the first season, but it still had to cut a lot of material due to the length of the original and you can feel it: developments are contrived, characters feel flat, you don't understand any of the relationships between the characters, the scenes become boring due to the combination of all of these aspects, etc. You can't really rush slice of life while keeping it interesting, by truncating the story you do not have the time to demonstrate average life, context of the characters, or the time to get to know them. They could have made this work by completely overhauling the common route until it barely represented what we saw in the VN, putting the enjoyment of the work itself over the accuracy of the adaptation, but that didn't happen.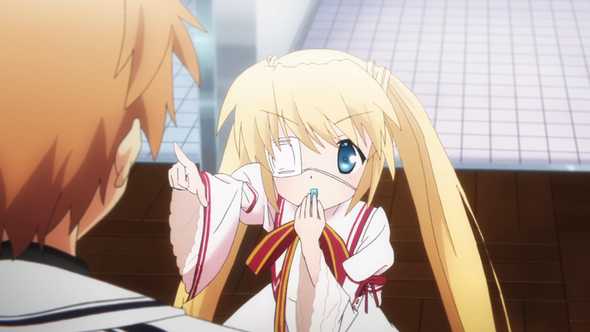 The situation with Rewrite is made worse given the structure of the Visual Novel: From my Visual Novel Review:

---
You're reading Ani-TAY, the anime-focused portion of Kotaku's community-run blog, Talk Amongst Yourselves. Ani-TAY is a non-professional blog whose writers love everything anime related. Click here to check us out. If you want to read more of my writing, check out RockmanDash Reviews and KMTech.